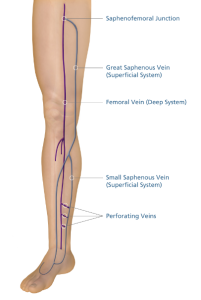 What are perforator veins? Think of your network of veins as a ladder. One side is your superficial venous system and the other is your deep venous system. What connect these two sides, the "rungs" of the ladder, are your perforator veins. The perforator veins drain your blood, from your superficial to your deep, when working properly. When the valves in your perforator veins fail or become incompetent, the blood can flow back the other way, from deep to superficial, and this will cause high pressure in your superficial venous system. When this happens it could cause you to develop varicose veins or even venous skin ulcers.
Some vein clinics and treatment centers will neglect to check for perforator venous incompetence thus missing what could be the cause of your discomfort, swelling, varicose veins, and/or ulcers. At the Center for Venous Disease, we leave no stone unturned, and will look for and treat perforator venous incompetence if it is found.
We also use an FDA cleared medical device for perforator treatment with the RFSStylet™ from Covidien.  This device is the only FDA cleared medical device approved for energy based treatment of a refluxing or diseased perforator vein.
Request An Appointment
At the Center for Venous Disease, we make sure and train all of our staff on the insurance requirements so that you can get the best care possible!  We will work with your insurance company to help make sure you get the best treatment and the least cost to you out-of-pocket.  CVD is "In-Network" on most major plans. We won't give up on you!