FINANCING OPTIONS FOR YOUR TREATMENT PLAN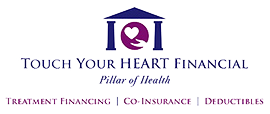 Through our arrangement with veinscreening.com and with the treatment facilities that we own and operate, each CVD office continues to address the three most important things to our patients. The cornerstone of our company is our interaction with our patients, doctor referral base, and industry partners to lower cost. With thousands of patients treated since 2006, and with a BBB Accredited Business rating, we communicate with our patients on a frequent basis and listen to improve our offerings, services, and clinical outcomes.
Our patients have expressed the need to support their healthcare issues in the following areas:
Expertise in Total Vein Care with Board Certified Doctors, Surgeons, Sonographers, and trained staff.
Insurance Advocacy and support is paramount for every patient.
Financial Support to aid in payment for services rendered regardless of income level or credit score.
With the launch of Touch Your Heart Financial, each CVD office can help you with your insurance questions and financial responsibilities. Navigating these issues can be time consuming and stressful. Our trained staff will detail the out-of-pockets estimates related to your treatment plan, insurance policy, and offer you cash pay options, if needed, with 100% acceptance for all patients. If you have a valid Driver's License and verified bank account (Debit Card), and can afford a small down payment based on a percentage of your overall procedure cost, then you will qualify for our program through our partnerships with like minded financial companies. To be clear, we will also finance your insurance balance as well. This will be detailed to you when you receive your E.O.B. or Explanation of Benefits, letter from your insurance company.
With any financial program we put together, we understand we are exposed to some risk. But, our priority is treatment of venous disease sooner rather than later. As stated throughout this website, the disease is progressive and will worsen with time. The longer you wait, the more work has to be done to correct the issues and this leads to a higher cost to you. So, the sooner you're treated, the less cost you will incur to get symptom relief.
We would recommend you take the first step by filling out the Patient Self-Assessment, schedule your appointment, have your ultrasound completed, and then review your treatment plan with your doctor.