The best patient is always going to be the most informed patient.  That was the motivation to write the book, Varicose Veins…a Patient's Reference.
If you understand the source of your problem, then chances are you'll understand the treatment plan to address your issues.  Patients arrive at our office on a very frequent basis with misinformed or misguided information of what causes venous disease and how to best approach the problem.
First of all, you need to find a doctor who specializes in vein treatment.  Secondly, you need a trained staff to support the doctor and who understands the insurance mandates.  This only comes with expertise and volume of procedures.  Our doctors have completed thousands of procedures with a 98.7% success rate based on vein occlusion.  When you close the diseased vein segment, healthy leg veins work together to return the blood to the heart.  With diseased vein valves (image below), the blood pools in your lower legs which leads to painful swelling and skin breakdown.
As you review the anatomy, it is a complicated system of veins (flow of blood back to the heart), arteries (flow of blood away from heart), connecting veins-Perforators which bridge the deep system with the superficial system, and of course all the tributary veins that carry blood throughout your body.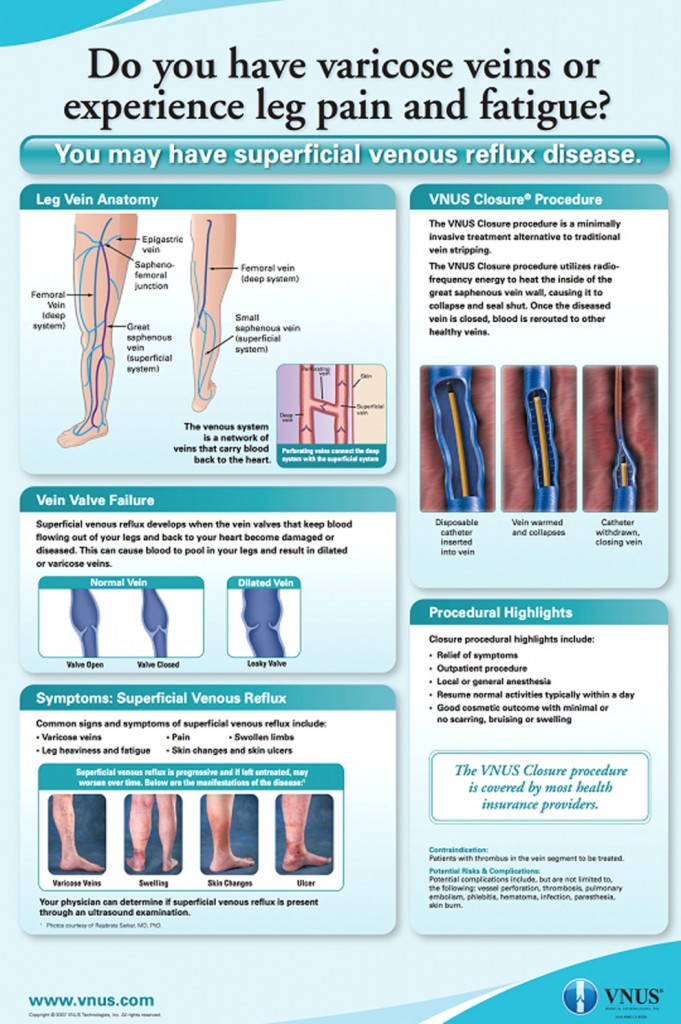 Conditions contributing to varicose veins include genetics, obesity, pregnancy, hormonal changes, work or hobbies requiring extended standing, past vein disease such as thrombophlebitis (inflammation of a vein as a blood clot forms) or past blood clots.  Women suffer more from varicose veins than men.  However, men wait longer to be treated so they appear with worse symptoms and more pain.  I would urge you to be treated sooner than later.  Less work for us means less out-of-pocket money for you.
Common Myths and Dangerous thinking related to Varicose Veins!
My insurance won't pay for my treatment. False. Over 200 million people have coverage in the U.S. for vein care.
If I just leave it alone or take a pill (internet gimmick), it will go away. False. Venous Disease is progressive and will lead to skin breakdown and more intrusive procedures. A blood clot is an obvious concern.
The technology that replaced Vein Stripping Surgery (Operating Room Procedure) is all the same. False. Endovenous ClosureFast™ and Endovenous Laser work differently. Laser has been shown to be more painful, has more post-procedure bruising and tenderness than VNUS® Closure™ Procedure. This pain and bruising can last weeks and require narcotics to reduce the pain. CVD exclusively uses ClosureFast™ technology to minimize the pain and bruising to our patients.
This procedure should be done in an operating room setting. False. There is lower risk and cost associated with the procedure when done in an office setting. You have eliminated the majority of the risk (anesthesia) by being able to quickly ambulate after the procedure is done. A typical procedure for CVD is 30-45 minutes with the patient out of the room and walking within 15 minutes.
A doctor who is not a specialist in Phlebology is qualified to take care of my legs. False. We believe so strong in the ABPh Certification (American Board of Phlebology) that it is a corporate mandate of all CVD doctors to pursue Diplomate status in Phlebology. This is in addition to vascular surgery, general vascular surgery, general surgery, cardiac surgery, or other specialty board certifications. CVD wants the best trained doctors for your Total Vein Care needs. This core value of ABPh (ABPh.org) Certification is the root of our quality care for you and your family.
Schedule An Appointment
At the Center for Venous Disease, we make sure and train all of our staff on the insurance requirements so that you can get the best care possible!  We will work with your insurance company to help make sure you get the best treatment and the least cost to you out-of-pocket.  CVD is "In-Network" on most major plans. We won't give up on you!
The Center for Venous Disease (CVD) only employs specialists that are focused on Total Vein Care and we want our patients to get the best care they can get. In the Employment Agreement between CVD and our doctors, it is required that our doctors become Diplomates of the American Board of Venous and Lymphatic Medicine (ABVLM). A doctor who has been accredited through the ABVLM will have more experience than any other doctor that you could visit. This certification takes anywhere from 9-16 months to complete, on top of all of the other accreditations your doctor may have. In most cases, a CVD doctor may have a Board Certification in Vascular or General Vascular Surgery and have ABVLM Diplomate status as well. At CVD, we pride ourselves on knowing that our doctors will give our patients the best treatment plans possible, and the best chance of success on any treatment that they conduct. Call us today and see for yourself how being screened, evaluated, and treated by the best of the best can make all the difference in your world.